Essay About The Internet: Its Role In The Modern Society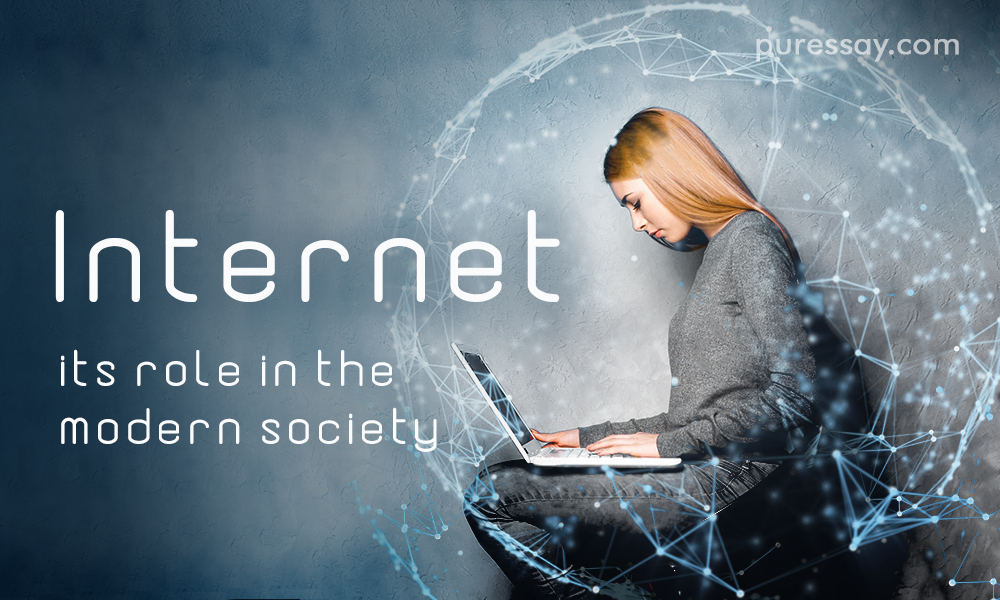 Diving into the history of the World Wide Web
The Internet is the global system of interconnected computers that is used to link devices worldwide. It would be appropriate to begin this essay on Internet with a short digression into its history. The origin of the Internet dates back to the Vietnam War era. In 1969 a team of defense engineers in University of Los Angeles-California sent the first-ever instant message with help of computer to Stanford University, which is situated thousands miles away. The word "Internet" first appeared in 1976. Did you know that the first head of state, who used the e-mail was the Queen Elizabeth? The Domain Name System was invented in 1983. Nevertheless, first names of sites were complicated sequences of letters and numbers, which were quite hard to remember. HTML (Hyper Text Markup Language) and text browser were invented in 1990 by Tim Berners-Lee. He also thought out the concept "World Wide Web". The first office was opened by Google in 1998. The first social network happened to be the American portal Classmates.com. It was established in 1995. It would be quite interesting for the social network users that Facebook, the most popular network in the world, was founded in 2004 by Mark Zuckerberg. YouTube debuted the year after. Since 2007 people needn't have a computer to surf the Internet, because of the rapid growth of mobile and smartphone technologies. Since that moment the sequence of new networks has appeared and people's life has greatly changed. To be honest, one should mention in his/her essay about Internet that the Global net and innumerable amount of modern social networks immensely influence the life of contemporary society. So it would be fair to say that the new millennium was celebrated with the beginning of the Internet Era.
Internet security
The Internet has a great impact on our daily life. It makes our routine easier and more comfortable. For example, we can learn something about Australia aboriginal life, listen Beethoven symphonies or order Frankenstein essay just sitting in front of your computer. Nonetheless, besides all the advantages of using the Internet, there are a lot of secret pitfalls. Data leakage prevention is one of the most important issue today. The main idea of the Internet security is keeping information confidential. It's another name is cyber security. It becomes even more important when you operate your business online. There some tips on how to keep your information secure:
Make sure you know who is getting your personal or business information;
Though it may seems self-evident, always protect your information with password and keep it private;
Avoid unknown email attachments, never click on unknown links;
Always use virus protecting software.
Another subject, which is worth being mentioned in essay on the Internet is safety rules in social networks. The main mistake of the majority of network users is posting too much personal information. Some swindlers may use information about your life and your photos to receive an access to your private or even financial information. Have you ever tried to search your own name in Google? In fact, it is not bad idea. It will give you an opportunity to check how other users see your page, which information is available and so on. Some people may try to fake an identity for their criminal goals. The last research proves that it is absolutely easy to create an account in Facebook or another network using fake or impersonating identity. The question is how you can verify whether this page belongs to the stated person or not. Try to check out his/her profile searching for some strange or suspicious things. Anyway, don't ever share any kind of personal information with strangers. Try to limit strangers' access to your account and information stated there. Any Internet safety essay will advise you to check out the possible settings and configurations. That will give you an ability to limit who can see some particular aspects of your profile.
Internet addiction
But hackers and cheaters are not the most troubling aspects about the Internet. Every day the problem of internet addiction becomes more serious. Many people consider it to be a teenage problem, but the fact is a lot of adults suffer from this disorder as well. There are a number of reasons why people get this addiction. Some of them experience shortage of communication in real life, some of them just try to escape from the commonness of the daily life in virtual chatting or playing online games. There are some signs that scream loudly that a person has Internet addiction and needs help:
You spend more time with your gadget surfing the Internet than speaking with people;
You lie to others about the time you spend in front of your computer;
If you haven't possibility to use your computer for a few days, you feel nervous and uncomfortable;
You experience difficulties with completing your job tasks and house holding routing, because you are too busy thinking about your virtual life;
Surfing the Internet the only kind of relaxation and amusement for you.
Professors often make students write Internet addiction essay in order to increase their awareness on this issue. In fact, students usually use the help of paper writing service to complete this task.
It is important to mention that spending a lot of time in front of a computer doesn't necessarily mean addiction. For instance, some people have to use Internet and spend hours with their due to their job.  Another example is speaking via Internet with your distant relatives or friends. Remember that the first symptom of Internet addiction disorder is person's will to interact more online than with real people in the real world.
This disorder could lead to a number of problems such as broken relations, job loss, financial and health problems. So Internet addiction should be immediately treated. There are some ways of getting rid from it:
Ask your friends and relatives for support, tell them about the problem;
Try to set a timer in order to limit your time spent online;
If you feel like speaking with people who suffers from the same problem, try attending a support group;
Find some offline activities and hobbies;
If you feel that you can't cope with in by yourself, don't be embarrassed to visit a psychologist.
Cyberbullying
Another online danger that should be definitely mentioned in every essay about the Internet is cyberbullying or cyberharassment. You can order the essay on cyberbullying in some professional writing service. It is a form of bullying which is realized using electronic means of communication. This phenomenon may seem harmless because it doesn't involve any physical contact, but it is still dangerous. Cyberbullying is especially dangerous for children and teenagers. It can deeply hurt their feelings and lead to some behavior disorders or even suicide attempts, lower their self-esteem, make them angry and scared. The survey conducted in 2004 by I-Safety.org showed that 42% of students have been bullied online and 35% have experienced threats. In order to avoid these consequences adults have to take some measures. Schools should provide special lessons and trainings to teach students how to react upon such situations and how to avoid them. Parents, in their turn, should pay more attention to their children's troubles. If you have noticed some strange changes in your child's behavior, try to find out what is wrong, what bothers him/her. Besides, it is a good idea to talk to your child about Internet security.
It would be appropriate to sum up with this conclusion: Internet has both advantages and disadvantages, but it could be our friend if we will learn to use it properly and keep some rules.