Day of the Dead Essay: The Honoring of Deceased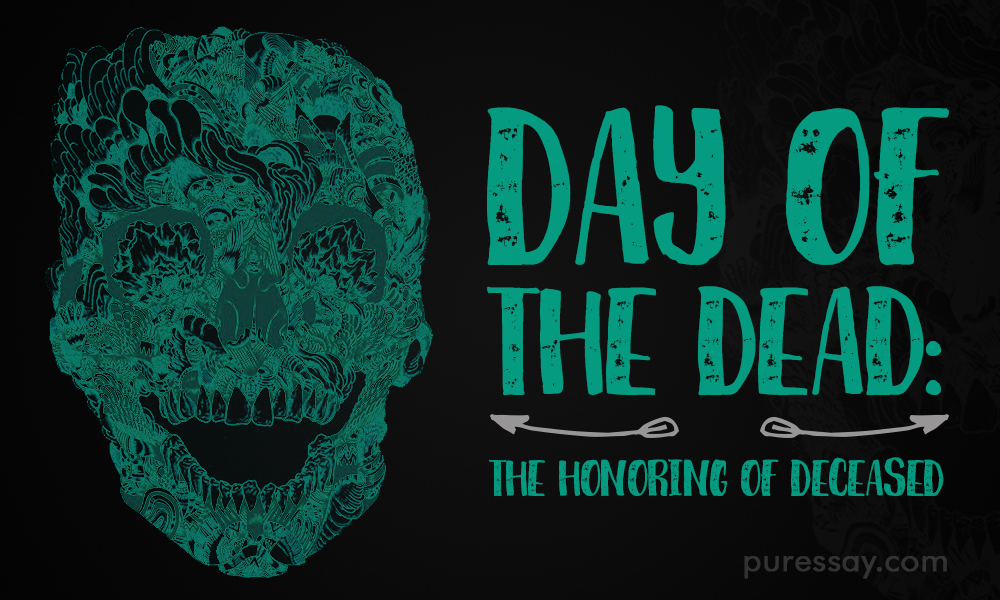 It is so interesting how many traditions one can find in the world. Each country has its customs. These are things that make it unique.
Day of the Dead is a special holiday. Although it is not a big festival, some people say that it is a globe event. People honor the memory of their relatives or close people that died. This festival has interesting history, traditions, and facts.
Thus, we have started Day of the Dead Essay. If you will get stuck with your paper, apply to our cheap essay writing services.
The feast itself is an interesting mix of living and dead, modern and ancient. Day of the dead is highly significant day for people in Mexico. It is a celebration of life. Also, it is a time to honor family members and loved ones who have passed with drink and food offerings.
What is unusual about Mexico is that it has two important aspects of culture: family and food. For these reasons, the main element of the holiday is food. Corn, chocolate, coffee, salt, and alcohol play significant role in celebrating this day.
People used to prepare offerings for their pets as well. There is nothing surprising about it.
The symbolic detail of the holiday is sweet, sugary, soft bread. The recipe is simple. Every baker has his own artistic interpretation of the bread.
This Mexican bread of dead is always decorated with crossed bones on the top. The bones represent the disappeared loved ones. People believe that the spirit of the dead relative will eat the spiritual essence of the bread.
Hot chocolate is one more basic element of Day of the dead. People add spices like chili sauce to make it hot.
The cloth that people wear on that day varies hugely. As a rule, they put on beautiful clothing and color faces in different bright hues. Someone can observe that many women choose national dresses. Both men and women use different pieces of national cloth on Day of the dead. Usually one may notice men in sombrero and women with umbrellas.
Although it is Day of the dead, people try to wear bright costumes. Not only white and black are traditional paints of the feast. Pink, blue, yellow, red, and green are the most popular colors on this holiday.
Sometimes a tradition is so powerful that influences other countries. For example, Halloween now is celebrated in most countries in the world, though it has Celtic roots.
People say different things about this festival. This holiday is quite popular in many countries. One can find a huge number of followers as well as enemies of this day. Prior we have told you that it is a mix of good and bad, dark and light, paganism and religion. This serves a proper base for contradictions in attitudes.
Day of the dead has its analogues all around the world. In European countries people do honor dead relatives but in different way. In Mexico this holiday is very bright while in Europe people used to celebrate it calmly and quietly.
Each culture has the same tradition. It is unbelievable how people accept things. The way of how people celebrate festivals and holidays reflects the inner state of the nation. Day of the dead is a tiny part of people's traditions. We hope that now you have an idea what this day is about.
Interesting Facts about the Day of the Dead
We have already written much about the feast, but there are things that we have not mentioned.
Our site deals with different writing assignments. Here one can see numerous essays and papers that can be of use.
1. The festival has a deep history. It started 3000 years ago. Experts claim that the Day of the Dead was celebrated in August. People dedicated the whole month to this holiday.
2. Most people think that the celebration takes place on one day. It is a huge mistake. Even though the festival opens on the 2 of November, it starts the day earlier. So, the feast lasts two days.
3. As far as we know that the Day of the dead is celebrated during two days, let us figure out why it happens. The first day is dedicated to children. They are honored on the first day. The second day is devoted to adults.
4. In Catholicism there is a holiday which is called All Saints' Day. What is funny is that both galas are commemorated at the same day.
5. People who celebrate the Day of the dead believe that soul lives endlessly; the spirit of dead people move within visible and invisible worlds without hindrance. For these reasons, they honor the holiday. People believe that will see the spirit of their beloved ones.
6. The traditions of the feast differ greatly among towns and regions. Nowadays the common way of celebration is the mix of traditional elements and Catholic features.
By the way, it is a common thing in all countries. Almost any feast is blended with religion traditions.
7. The main part of the Day of dead is placing of an altar. In this way, people show that they remember their relatives that have passed away. An integral parts of the altar are symbols of nature: earth that is represented by flowers, fire in the form of candles, water, and wind.
8. For honoring deceased, people decorate altar with marigolds. It is very significant and symbolic because yellow color means hope and life. Also, people believe that marigolds guide the spirits to the altars.
9. Prior to the vigil all participants decorate the tombs of passed away people. Then at the burial area they eat food and dance to the music.
10. One can see many skulls made of candy during the day of the dead. This is an old ritual. It symbolizes not only death but also revival. People put them on the altar as a gift. They also bring preferred food of dead people. It can be anything: sweets, fruits, or bread.
We want to say thank you for reading this paper. We so glad that you follow our blog. Read our college admission essay samples. Chat with support agents if you have questions according the services. Our company offers its help. So, do not hesitate. Make orders on our site.